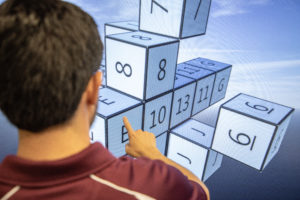 For further information contact: Christi Retzer, Program Manager- ceretzer@tamu.edu
Congratulations to the MS Data Science Class of 2023!!
We are immensely proud of the first cohort of MS Data Science students completing their degrees. The knowledge and skills gained in the program will set you up for a successful future. We look forward to seeing all your accomplishments!
*We are not currently offering a Spring intake*
The Master of Science in Data Science degree is an on-campus interdisciplinary program offered by the Departments of Computer Science and Engineering, Electrical and Computer Engineering, Mathematics, and Statistics within the University's Colleges of Engineering and Arts and Science, and administered jointly with the Texas A&M Institute of Data Science.
Each of the four academic departments offers a track in the program. Students will be admitted to an individual track which they will maintain for the duration of their study. The multidisciplinary curriculum (see below) provides students with a solid foundation in mathematics, statistics, computer science, and machine learning through core courses, after which students are able to chose from electives courses provided by the different participating departments.
The MS in Data Science program prepares a student for a variety of career options associated with data science; including consulting agencies, financial services firms, government agencies, healthcare and pharmaceutical companies, marketing services, private commercial corporations, and technology companies.
Admissions & Application
Prospective students apply online through the Texas A&M University GraduateCAS Texas A&M University | Applicant Login Page Section (liaisoncas.com).
Create an Account to get started at the GraduateCAS. Please select "Fall 2024 MS in Data Science" from the Add Program list. Complete all 4 quadrants, Personal Information, Academic History, Supporting Information and Program Materials, as instructed below.
*Carefully review all information on the application before submitting. Once submitted, specific changes cannot be made. Certain errors can result in your application being withdrawn*
*Offer letters will be sent out as the committee makes their decision. This communication will be sent to the email address you provided on your application.
Application Dates for Fall 2024: August 1, 2023- February 1, 2024
*We are not currently offering a Spring intake*
Eligibility Requirements: Applicants will need to have certain course work prior to enrolling in the program:
Math: calculus and linear algebra
Statistics: college level introduction to statistics
Some programming experience in at least one of languages: R, Python, C++.
Applicants with a bachelor's degree in mathematics, statistics, computer science, electrical engineering, industrial engineering or similar fields should have the sufficient background.
Application Materials:
Statement of Purpose: Applicants should submit a statement of purpose to describe the reasons for pursuing graduate study, academic and professional interests and goals, and experiences preparing for graduate study. Submit it in the Program Materials quadrant of GraduateCAS under Documents.
CV/Resume: The CV/resume should outline the work history, educational background, relevant publications and patents, and research experience, and also include a section about the relevant courses taken and associated grades. Submit it in the Supporting Information quadrant of GraduateCAS under Documents.
Transcript: Submit a non-official transcript in the Academic History quadrant of GraduateCAS. Official transcripts are required only if you are admitted and intend to enroll.
3 Recommendation Letters: Provide the contact information of your referees in the Program Materials quadrant of GraduateCAS under Recommendations. An email request will automatically be sent to each referee on your behalf.
GRE (optional): You can self-report GRE scores in the Academic History quadrant of GraduateCAS under Standardized Tests. The GRE requirement is waived for all applicants for Fall 2024 admissions.
TOEFL and other language requirements: International applicants must have a satisfactory score on the TOEFL or IELTS exams. For the English language proficiency requirement by the university, see International Graduate – Admissions (tamu.edu). You can self-report standardized test scores or report tests planned to take in the Academic History quadrant of GraduateCAS under Standardized Tests. Official scores must be sent directly from the testing service, institution code for Texas A&M University is 6003.
Other supporting documents (optional): If you have publications or other documents that may show your qualification to the program, you may submit them as additional materials in the Program Materials quadrant of GraduateCAS under Documents.
Application fee: The application fee is nonrefundable and must be paid at the time of submission.
Tuition and Fees
The chart below outlines the estimated cost of attendance. This does not include living expenses. Detailed information regarding tuition & fees at Texas A&M University is available from Student Business Service.
| | | |
| --- | --- | --- |
| | In-State | Out of State |
| Tuition and fees | $13,878 | $30,275 |
| Program fee total | $12,400 | $12,400 |
| TOTAL COST | $26,268 | $42,675 |
Curriculum
This is a 30-hour program which will consist of a student completing 10 courses. Students from all tracks will take the same set of 4 core courses, which develop students with a strong foundation of data science in mathematics, statistics, computing skills, and machine learning.
Students will choose 6 elective courses from the list of 30 courses offered by five different departments.
Students typically take 4 core courses in the first semester, and then take 3 elective courses in each of the two subsequent semesters. Students are required to take 3 elective courses from the department of the track into which they are admitted, and can take the remainder of their elective courses from any of the departments listed below (including the track into which they were admitted if they wish).
MS Data Science Core Course Descriptions
Courses Offered for Current Academic Year
Core courses:
MATH 677 Mathematical Foundations for Data Science
STAT 650 Statistical Foundations for Data Science
STAT 624 Databases and Computational Tools Used in Big Data
ECEN 758 / STAT 639 / CSCE 676 Data Mining and Analysis
Elective courses offered by Computer Science and Engineering:
CSCE 608 Database Systems
CSCE 625 Artificial Intelligence
CSCE 633 Machine Learning
CSCE 636 Deep Learning
CSCE 638 Natural Language Processing: Foundations and Techniques
CSCE 666 Pattern Analysis
CSCE 670 Information Storage and Retrieval
CSCE 671 Computer-Human Interaction
CSCE 678 Distributed Systems and Cloud Computing
CSCE 679 Data Visualization
CSCE 735 Parallel Computing
Elective courses offered by Department of Electrical and Computer Engineering
ECEN 642 Digital Image Processing & Computer Vision
ECEN 644 Discretetime Systems
ECEN 649 Pattern Recognition
ECEN 663 Data Compression With Applications to Speech and Video
ECEN 689 Online Decision Making and Learning
ECEN 740 Machine Learning Engineering
ECEN 743 Reinforcement Learning
ECEN 748 Data Stream Algorithms and Applications
ECEN 760 Introduction to Probabilistic Graphical Models
ECEN 765 Machine Learning with Networks
ECEN 766 Algorithms in Structural Bioinformatics
ECEN 769 Materials Informatics
ECEN 725 / CSCE 725 / STAT 683 Data Science Capstone
Elective courses offered by Department of Mathematics:
MATH 609 Numerical Analysis
MATH 613 Graph Theory
MATH 664 Topics in Mathematical Data Science
MATH 678 Introduction to Topological Data Analysis
MATH 679 Mathematical Algorithms and Their Implementations
MATH 680 Compressive Sensing
MATH 689 Special Topics in Deep Learning: Theory and Application
Elective courses offered by Department of Statistics:
STAT 608 Regression Analytics
STAT 616 Statistical Aspects of Machine Learning I
STAT 618 Statistical Aspects of Machine Learning II
STAT 626 Methods in Time Series Analysis
STAT 636 Applied Multivariate Analysis and Statistical Learning
STAT 638 Applied Bayesian Analysis
STAT 645 Applied Biostatistics and Data Analysis
STAT 646 Statistical Bioinformatics
STAT 647 Applied Spatial Statistics
STAT 654 Statistical Computing with R and Python
STAT 656 Applied Analytics
STAT 659 Applied Categorical Data Analysis
Elective courses offered by Department of Industrial and System Engineering:
ISEN 613 Engineering Data Analysis
ISEN 619 Analysis & Prediction
Questions and Answers
Q. Does the program accept 3 year Bachelor's degrees from international universities?
A. You can check to see if specific international BS degrees are be considered equivalent to a 4 year BS degree by consulting the list of International Students – Admissions (tamu.edu) provided by the The Office of Admissions. If you do not see your country listed, you will need to contact the university Admissions Office directly at admissions@tamu.edu.
Q. Are there funding opportunities available to international students?
A. Yes. Funding opportunities may be found on the Graduate and Professional Studies webpage https://grad.tamu.edu/
Q. Is there a word limit on the statement of purpose?
A. No. There is not a minimum or maximum word limit. The average SOP is 1- 1 1/2 pages.
Q. When can I expect a decision to be made regarding my application?
A. The application review process will begin close to the February 1st deadline.
Q. Can I receive an application fee waiver?
A. While we are sensitive to the expenses incurred during higher education pursuit, we do not award application fee waivers. These fees are used to support the university and uphold our exceptional standards of education.
Q. What English proficiency exams are accepted?
A. Citizens from non-English-speaking countries are required to submit proof of English proficiency to be eligible for review. International Graduate – Admissions (tamu.edu)
Contact and Further Information
Christi Retzer, Program Manager, TAMIDS, ceretzer@tamu.edu