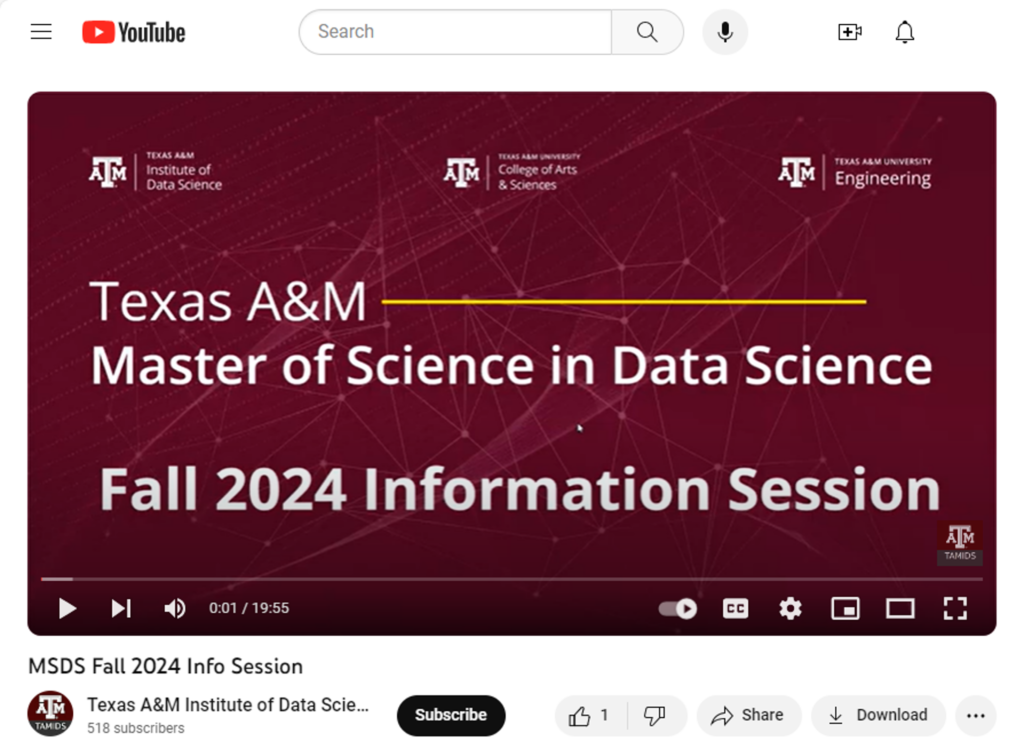 ---
---
The Master of Science in Data Science degree is an on-campus interdisciplinary program offered by the Departments of Computer Science and Engineering, Electrical and Computer Engineering, Mathematics, and Statistics within the University's Colleges of Engineering and Arts and Science, and administered jointly with the Texas A&M Institute of Data Science.
Each of the four academic departments offers a track in the program. Students will be admitted to an individual track which they will maintain for the duration of their study. The multidisciplinary curriculum (see below) provides students with a solid foundation in mathematics, statistics, computer science, and machine learning through core courses, after which students can choose from elective courses provided by the different participating departments.
The MS in Data Science program prepares a student for a variety of career options associated with data science; including consulting agencies, financial services firms, government agencies, healthcare and pharmaceutical companies, marketing services, private commercial corporations, and technology companies.
Congratulations to the MS Data Science Class of 2023!!
We are immensely proud of the first cohort of MS Data Science students completing their degrees. The knowledge and skills gained in the program will set you up for a successful future. We look forward to seeing all your accomplishments!
For further information, contact: Christi Retzer, Program Manager- ceretzer@tamu.edu
Apply Now for Fall 2024!
Application Deadline: February 1, 2024. Explore the BIG potential of big data and more with a Master of Science in Data Science (MSDS). The MSDS program is now accepting applications for the Fall 2024 semester. View the information video and the presentation PDF for more details.
*We are not currently offering a Spring intake*
Frequently Asked Questions and Answers
Q. Does the program accept 3-year Bachelor's degrees from international universities?
A. You can check to see if specific international BS degrees are considered equivalent to a four (4) year bachelor's degree by consulting the list of International Students – Admissions (tamu.edu) provided by the Office of Admissions. If you do not see your country listed, you will need to contact the university Admissions Office directly at admissions@tamu.edu.
Q. Are there funding opportunities available to international students?
A. Yes. Funding opportunities may be found on the Graduate and Professional Studies webpage.
Q. What types of jobs do MSDS graduates typically go into?
A. Graduates have a wide range of career options and can enter various roles, such as data analyst, business analytics specialist, and statistical analyst in different industries. Data science is used in many industries, such as energy, medicine, and logistics.
Q. Is there a word limit on the statement of purpose?
A. No. There is no minimum or maximum word limit. The average SOP is 1- 1 1/2 pages.
Q. When can I expect a decision to be made regarding my application?
A. The application review process will begin close to the February 1st deadline.
Q. Can you select multiple tracks during the application?
A. The application allows you to choose a first and second preference.
Q. Can I receive an application fee waiver?
A. While we are sensitive to the expenses incurred during higher education pursuits, we do not award application fee waivers. These fees are used to support the university and uphold our exceptional standards of education.
Q. What English proficiency exams are accepted?
A. Citizens from non-English-speaking countries are required to submit proof of English proficiency to be eligible for review. International Graduate – Admissions.
Q. How do you choose a particular degree track in the program?
A. The choice of a track is primarily based on personal interest or past experience. For example, you might choose the computer science track if you have a computer science background.
Q. What is the GPA requirement for applying?
A. There is no minimum GPA requirement, but a competitive applicant typically has around a 3.5 GPA.
Contact and Further Information
Christi Retzer, Program Manager, TAMIDS, ceretzer@tamu.edu