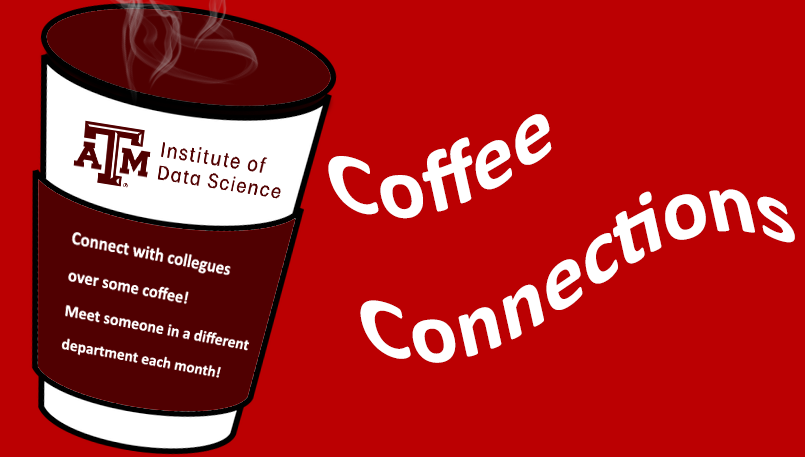 What is Data Science Coffee Connections?
The Data Science Coffee Connections program facilitates cross-departmental interactions among Texas A&M researchers interested in Data Science. Through this program, TAMIDS provides a platform that each month randomly pairs participants, who can then arrange a 30-min meeting to exchange ideas. While we expect people connecting through Data Science Coffee Connections will be drawn by a shared interest in Data Science, it's entirely up to you where you take the conversation.
Data Science Coffee Connections leaves to the participants to decide whether to meet virtually or meet in person. If the connected researchers desire to meet in person, we stress that all university mandated social-distancing measures, whichever is currently applicable, must be strictly observed.
We hope that Data Science Coffee Connections will help encourage research collaborations that might arise otherwise through hallway conversations and other serendipitous meetings.
This program is inspired by the Innovate Brew program at the University of Michigan. Michigan's Innovate Brew program started when Professor Bill Lovejoy, Raymond T. J. Perring Family Professor of Ross Business School, had an idea for random coffee meet-ups and decided to put it to work. You can read more about it in this story.
How does it work?
First you sign up below, and give TAMIDS permission to pair you with other TAMU researchers. We try to avoid pairing you with anyone in the same department. You need to be a PI-eligible TAMU employee to sign up. Signup requires login using TAMU NetID.
At the end of month each (starting January 2021) our platform generates the random pairings for that month and you and your random partner will receive an email informing you of your pairing.
You and your coffee partner arrange to meet, within a month of receiving the email, at a time and place of your own choosing.
At the each of each following month, you will be paired with a different fellow researcher. New members can sign up at any time to be included in pairings at the end of that month.
You can pause, resume or cancel your participation at any time by revisiting the signup form and editing your response to the last question.
If you need more information, please contact coffeeconnections@tamu.edu.
Commonly Asked Questions
What can we talk about in the coffee meeting?

While you can talk about anything that is professionally appropriate, we do expect people connecting through Data Science Coffee Connections to be drawn by a shared interest in Data Science.

Is there any obligation or follow-up after the meeting?

No obligation. Follow up is left to individual participants to decide for themselves.

Will TAMIDS organize a follow-up meeting?

No. If participants feel necessary and beneficial to follow up after the initial meeting, they should do so by mutual consent. But the follow-up meetings are outside the scope of the Data Science Coffee Connections program. Each meeting TAMIDS initiates is a random pairing. We hope that the meeting leads to something, and if it does, participants feel free to take over after the first meeting.

Who pays for the coffee?

The participants will pay for the coffee themselves.

Where should we go for coffee?

The location is free for you to choose.
Contact Information
If you need more information, please contact coffeeconnections@tamu.edu.