The Texas A&M Institute of Data Science (TAMIDS) hosted an intensive four-day workshop on 17-20th September 2019 for 15 PhD students selected from around the Texas A&M University campus interested in learning about methods of Computational / Artificial Intelligence and applying these to their research. The workshop was led by Dr. Fernando Buarque de Lima Neto, Head of Computational Intelligence and Associate Professor at the University of Pernambuco-Brazil, and Adjunct Professor in the Texas A&M Department of Electrical and Computer Engineering. Dr Ulisses Braga-Neto from Texas A&M Electrical and Computer Engineering and Dr. Nick Duffield, TAMIDS Director, undertook the local planning for the workshop.
Students Learn New Methods for Data Science Research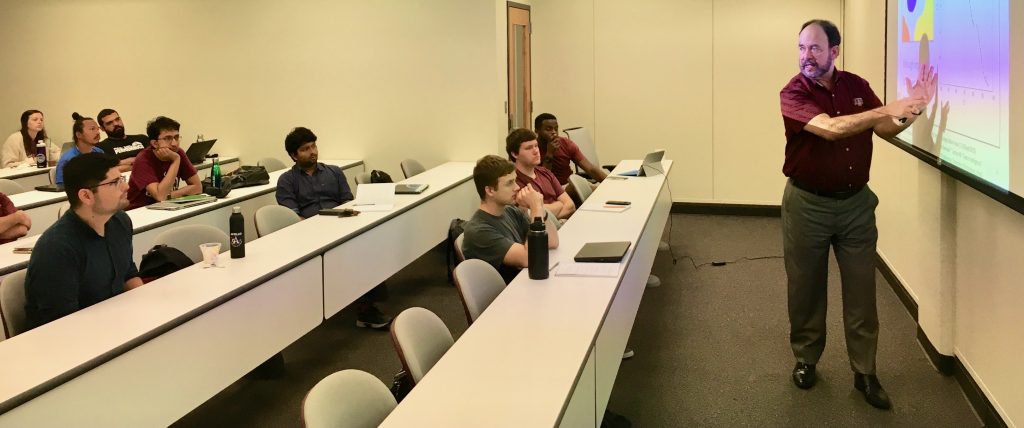 The aim of the workshop was to provide students with expertise in the methods and tools of Computational / Artificial Intelligence that they could apply to their ongoing research. The workshop included survey lectures of topics from the field, investigation of practical examples, and discussion of applicability to students' research projects. In order to promote engagement between instructor and students, the class size was limited to 15 students selected from a strong pool of applicants. While students were expected to have some experience in statistics and computation, no detailed background in computational AI was assumed, and students from any domain of Data Science were encouraged to apply.
Dr. Buarque explains: "In four intensive days of work, the participating students increased their awareness of the potential and risks associated with Computational / Artificial Intelligence in real-world applications". The course covered a dozen techniques from CI/AI, and students were able to explore applications of these to their own research.
Fostering Interactions Between Diverse Disciplines

The student participants represented diverse domains in Data Science, coming from the departments of Aerospace Engineering, Agricultural Engineering, Biology, Biomedical Engineering, Civil Engineering, Communications, Computer Science, Electrical & Computer Engineering, Marketing, Materials Science & Engineering, Mathematics, Nuclear Engineering, and Petroleum Engineering. Dr. Buarque was excited by the "rare opportunity to watch students of different areas talking among themselves in a truly transdisciplinary manner".
Student participant Mehri Yavari (Communications) said: "Through the workshop I learned about so many ways that I, as a social scientist, could use AI strategically in […] studying social media. I found a research idea at the end of workshop through listening to others' research even though they were in different fields". According to Michelle Jonika (Biology): "The small class size allowed for discussion and interaction between participants, and I feel that this helped us to not only understand our own research better, but to also see how artificial intelligence can be applied to many fields and solve a vast array of problems". Enrique Losoya (Petroleum Engineering) commented that "The knowledge, tools, and ideas discussed during this workshop have had an immediate constructive impact on my research, which focuses on geothermal, oil, and gas drilling automation and optimization".
TAMIDS plans a follow-up event later in the academic year to track outcomes from the workshop.